The 5th Annual – Dr. Jasper's 5 Day Wear Pink Challenge for breast cancer awareness is approaching fast! Please get your "pink" ready and join in with us for this year's challenge which will be held Oct. 23th-27th.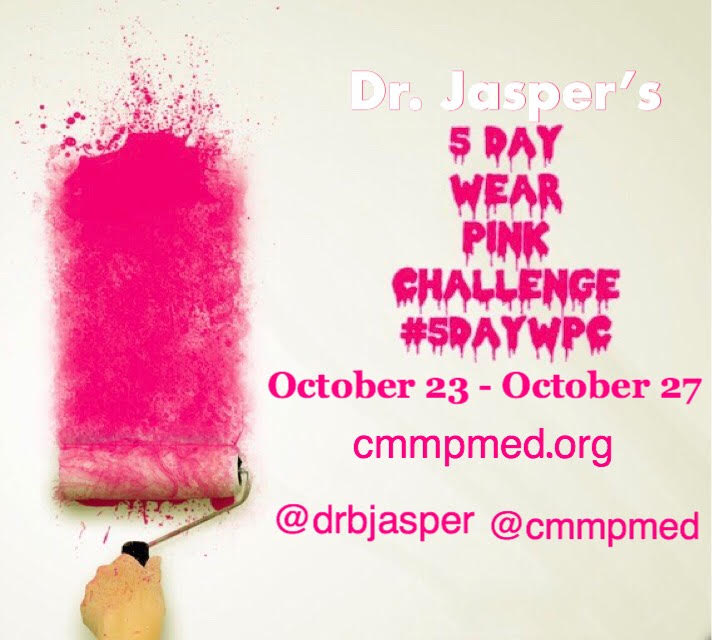 The rules of the challenge have changed slightly this year so please keep reading to make sure this year will be another success.
The rules of the challenge remain simple. Wear something pink in your daily wardrobe for the 5 challenge days.
Take a picture of yourself wearing the pink item
Post it to your social media account using the hashtag #5DayWPC.
On your social media account, you will challenge others to also complete the 5 Day Wear Pink Challenge. If they accept the challenge they will follow the rules listed above.
Donations to CMMP can be made via Paypal  on our "Welcome" webpage (www.cmmpmed.org). Please tag in the donation memo "5 Day Wear Pink Challenge". Also, for every CMMP/HOPE Breast Cancer T-shirt purchase made, we will donate 10% of our proceeds to the Susan G. Komen Foundation.
If you can wear a different piece of clothing on each day even better! (Example: day 1 – pink shirt, day 2 – pink socks, day 3 – pink jewelry, etc.) Remember, if you can't complete the challenge for all 5 days then it's fine. Those that are impacted by breast cancer will appreciate your efforts and support in any way that you can provide it.
When you post any of your Challenge photos on Facebook or Instagram, please tag us @CMMPMed, so it can be shared on the CMMP page!!!
Please #share, #repost, and #tag any and everyone you know that has been impacted directly or indirectly by breast cancer and those that would be willing to participate. We look forward to this year being a huge success with your help and support, and we are definitely looking forward to another successful year of the 5 Day Wear Pink Challenge!