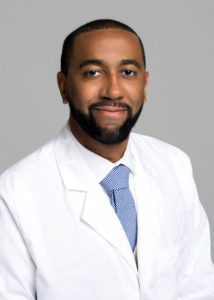 With a laid back attitude and southern humility to match, Dr. Byron Jasper, a native of Houma, LA, confirmed his passion for teaching and mentoring as well as his desire to learn more about improving community health during his residency in family medicine. After successfully completing his residency at Baton Rouge General Family Medicine Residency Program, Dr. Jasper decided to pursue a fellowship in academic and community medicine. He chose the Washington, D.C. area and, more specifically, the Community Health Leadership Development Fellowship at Georgetown University School of Medicine to better comprehend the challenges of delivering primary care to under-served populations. While at Georgetown he also would be able to learn more about the implementation of public health measures in an effort to improve the long term well-being of the community. The addition of participating in faculty development through teaching undergraduates, medical students, and resident physicians made this a transformative experience for Dr. Jasper.
During his time in fellowship, Dr. Jasper saw it necessary to create the Comprehensive Medical Mentoring Program (CMMP) because of his realization that there has been minimal growth in the number of minority physicians despite their important role in reducing health disparities. Dr. Jasper also realized that mentorship often influences academic productivity and professional satisfaction. With proper structure it can also help to promote the pursuit of an occupation in health care for those that may not have otherwise considered this field. It was from these facts and concepts that the foundation of CMMP was built.
Dr. Jasper is a proud alumnus of Xavier University of Louisiana, Tulane School of Medicine, and Tulane School of Public Health and Tropical Medicine.